Ref.: IEC B.3.1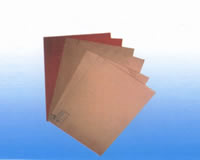 1. COMPOSITION AND PRESENTATION
Laminated paperboard is made of High-quality transformer board with casein, polyester resin or phenolic resin impregnated sheet by hot pressing process.
2. PROPERTIES & APPLICATIONS
It has obviously good properties in machenical strength and insulation strength than laminated wood. Large square laminated board is now available. It widely applied in strips, cylinders, spacers, plates, supports etc. as the insulating parts for oil transformer.
3. MAIN TECHNICAL CHARACTERISTICS
Table-01
Properties

Unit

Value

A

B

C

Density

g/cm3

1.15-1.35

1.15-1.35

1.15-1.35

Water content

%

< 8.0

< 6.0

¡Ü 6.0

Shrinkage

MD

%

< 0.5

< 0.5

¡Ü 0.5

CMD

< 0.7

< 0.7

¡Ü 0.7

Ash content

%

< 0.8

< 0.8

< 0.8

Ration of absorption oil

%

> 11

> 8.0

¡Ý 9.0

Tensile strength

Lengthwise

Mpa

¡Ý 100

¡Ý 100

¡Ý 100

Widthwise

¡Ý 85

¡Ý 85

¡Ý 85

Compression strength

Lengthwise

Mpa

¡Ý 125

¡Ý 145

¡Ý 120

Widthwise

¡Ý 90

¡Ý 100

¡Ý 70

Moisture content

%

¡Ü 6

¡Ü 6

¡Ü 6

Conductivity of aqueous extract

ms/m

< 11

< 8.4

< 8.0
Table-02 Size and Tolerance
T/Thickness

Length

Width

Size

Tolerance

Size

Tolerance

Size

Tolerance

T¡Ü10

¡À0.5

2000

¡À10

1000

¡À10

10

¡À1.0

2500

¡À10

1350

¡À15

20

¡À1.5

--

--

--

--

30

+1.75 / -1.5

--

--

--

--

200¡ÝT>50

¡À2

--

--

--

--