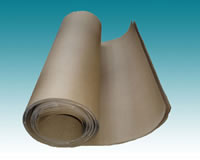 1. COMPOSITION AND PRESENTATION
This product made from highly purified unbleached sulphate pulp.
Normal Thickness: 0.13mm ; 0.18mm ; 0.25mm; 0.38mm; 0.50mm
Normal Width: 1000mm, Max. width: 1600mm
Packing: in roll, 100kgs/roll.
Color: natural
2. PROPERTIES & APPLICATIONS
-Smooth
-tough
-good mechanical
-electric strength.
It is used widely in engines, electrical appliance and instrument as insulating material, and also is used to make polyester film/Kraft paper flexible laminate type 6520.
3. MAIN TECHNICAL CHARACTERISTICS
Item

Standard IEC60641-3-2

Normal Thickness (mm)

0.13mm

0.18mm

0.25mm

0.38mm

0.5mm

Inspected Thickness

0.13mm

0.179

0.252

0.378

0.499

Basis Weight (g/cm2)

145.90

196.9

277.80

436.50

564.0

Density (g/cm3)

1.12

1.10

1.10

1.15

1.13

Tensile Strength

(Mpa)

MD

220.12

123.70

132.74

136.7

173.0

CMD

42.72

31.40

41.48

71.20

55.90

Elongation (%)

MD

2.8

2.9

2.1

2.5

2.5

CMD

8.7

8.3

6.2

7.3

8.8

Shrinkage (%)

MD

0.39

0.36

0.46

0.33

0.35

CMD

1.42

1.54

1.13

1.41

1.43

TD

4.61

7.22

5.16

5.01

5.60

Ash Content (%)

0.351

0.299

0.363

0.347

0.294

PH Value of Aqueous Extract

7.2

7.21

7.30

7.30

7.31

Dielectric Breakdown Strength (Kv/mm)

MD

Ave.10.62

Ave.9.38

Ave.9.29

Ave.9.19

Ave.13.11

CMD

Min.9.72

Min.8.6

Min.7.98

Min.8.51

Min.12.02

Moisture Content (%)

6.8

6.8

6.9

6.6

6.8