Polyester Film/Polyester Non-woven Fabric Combined Flexible Material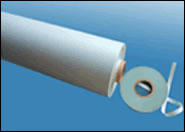 1. COMPOSITION AND PRESENTATION
FW-6643 (DMD 100) is constructed with one layer of high melting point polyester film and two layers of hot-rolling polyester non-woven fabric coated with F-class resin. The material is about 100% saturated with 15g/m2 _30g/m2 resin on surface.
2. PROPERTIES AND APPLICATIONS.
FW-6643 (DMD 100) shows excellent heat resistance, electrical and mechanical properties. Smooth surface, suitable for automatic insertion in electrical motor production.
It's suitable for Slot insulation, phase insulation and liner insulation in Class F electric motors and electric apparatus.
3. MAIN TECHNICAL CHARACTERISTICS

FW-6643(DMD 100) Technical Information
4. PACKING
The product is usually supplied in rolls. The roll weight is 50kg±5kg/roll, the width is 1000mm±10mm and the core I.D. is 76mm. It also can be supplied in forms of piece and tape. Other non-nominal thickness product can be supplied according to the requirement from the clients.