Polyester Film/ Polyaramid fabric (Nomex Paper) combined flexible material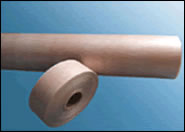 1. COMPOSITION AND PRESENTATION
FW-6650 is Polyester film/polyaramid fabric (Nomex Paper) combined flexible material (NHN) is a three layer flexible laminate in which polyaramid fibre paper (N) is boned to two sides of polyimide film (H).
2. PROPERTIES AND APPLICATIONS.
FW-6650 (NHN) shows excellent mechanical and electrical properties and good heat resistance as class H insulation material. It is suitable for solt, phase and liner insulation in Class H electric machines.
3. PACKING AND STORAGE
Combined flexible material is supplied in reel form. Inner diameter of a core is 80mm. 6650 polyester film/aromatic polyamide fabric combined flexible material weight of each reel is 25kg or 50kg, width of the combined material is 450¡À10mm or 900¡À20mm. Combined flexible material should be stored under 40¡æin clean and dry warehouse, far away form fire, beat and avoid sunshine. The storage life is 12 months form the date of dispatch.
4. MAIN TECHNICAL CHARACTERISTICS
Item

Unit

Normal value

Normal thickness

mm

0.15

0.17

0.20

0.23

0.25

0.30

0.33

Thickness tolerance

mm

¡À0.020

¡À0.020

¡À0.030

¡À0.030

¡À0.040

¡À0.040

¡À0.050

Grammage

G/m2

155¡À25

175¡À25

195¡À30

230¡À35

260¡À40

300¡À45

330¡À50

Tensile strength

MD

No bending

N/10mm

¡Ý120

¡Ý70

¡Ý140

¡Ý90

¡Ý160

¡Ý90

¡Ý180

¡Ý130

¡Ý200

¡Ý150

¡Ý250

¡Ý170

¡Ý270

¡Ý180

After bending

TD

No bending

¡Ý80

¡Ý50

¡Ý90

¡Ý70

¡Ý100

¡Ý80

¡Ý110

¡Ý80

¡Ý120

¡Ý100

¡Ý150

¡Ý110

¡Ý170

¡Ý130

After bending

Elongation

MD

%

¡Ý10

¡Ý8

TD

Breakdown voltage

No bending

kv

¡Ý8

¡Ý7

¡Ý9

¡Ý8

¡Ý10

¡Ý9

After bonding

Bond strength at room temp.

No delamination

Bond strength at heat temp.

(200¡À2¡æ) 10min

No delamination, no blister, no adhesive flow










NOTE: special requirements are upon mutual agreement

5. PACKING
The product is usually supplied in rolls. The roll weight is 40kg¡À5kg/roll, the width is 900mm¡À10mm and the core I.D. is 76mm. It also can be supplied in forms of piece and tape. Other non-nominal thickness product can be supplied according to the requirement from the clients